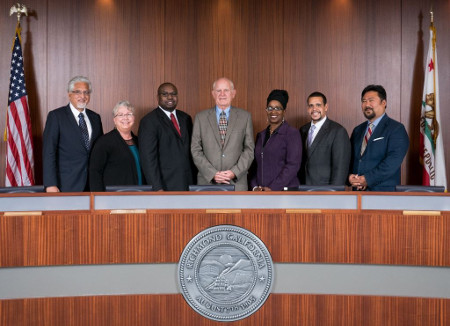 From left: Eduardo Martinez, Gayle McLaughlin, Jael Myrick, Thomas K. Butt (Mayor), Jovanka Beckles (Vice Mayor), Melvin Willis, Ben Choi
Thank the Richmond City Council for saving the hills!
The Richmond City Council on Jan. 24 voted unanimously to adopt the Richmond Hills Initiative, setting aside a stunning 430-acre parcel of oak woodlands, savannas, streambeds, and vernal pools overlooking El Sobrante Valley. This area was threatened with development projects that would have brought congestion, pollution, and sprawl, as well as increased danger due to landslides from unstable slopes. They deserve our heartfelt thanks!
©2014 Forests Forever. All Rights Reserved.